Efficient Privacy Preserving Analytics

 Solutions for Physical Security of Financial Infrastructures
The FCAS (FINSEC CCTV Analytics Service) is a probe producing events coming from observations of physical interactions by CCTV. The goal is to be able to detect bodies and body parts (e.g. heads, hands, etc.) and capture their interactions with each other and with initially-motionless objects (e.g. ATMs or racks). The observations generate events that shall be pushed to the FINSEC data collection for further analytics and correlation.
Overall, FCAS provides a privacy-preserving event model of a CCTV Analytics Probe. FCAS will not store any biometric data. For instance, if someone enters an ATM scene the system will follow this body inside the scene, but if this person exits from the scene and re-enters, FCAS will generate a new event of a body entering the scene recognizing only bodies or body parts. The person entering the scene will be considered yet another person entering the scene.
FCAS will provide a set of AI-based models, which will be able to detect objects out of the box, and by using human pose estimation. They will be able to detect a series of human actions, for example, opening a door or interacting with an ATM. However, models by themselves are just one piece of the solution. Therefore, FCAS provides a configuration capability that will allow the configuration of the scene's monitoring.
The CCTV probe architecture is composed of modules that process hierarchically the information contained in the video stream. The Figure below illustrates the processing flow by the probe from the camera video stream to the events sent to the data layer of the FINSEC platform.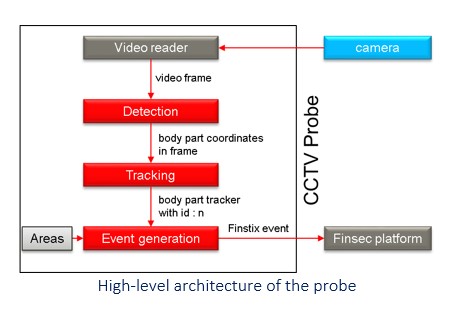 The accuracy of the CCTV analytics module and its privacy friendly operation are the main innovations of the modules.